Thursday Thirteen # 49
Thirteen Things about Jill
13 goddesses I like

1.Ishtar
Étoile du matin, Ishtar est la guerre. Étoile du soir, elle est amour et volupté./Star of the morning, Ishtar is war. Star of the night, she is love and voluptuous.

2.Aditi
Déesse primordiale de l'Inde, Aditi, elle est la "Non-liée", la Libre. Déesse-mère, elle permet l'épanouissement, elle libère de tout ce qui contraint, elle fait disparaître toute trace de péché, d'impureté, de souffrance et de maladie. Elle donne la bonne santé! / Promordal goddess od India, Aditi is know to be the one without attach, the free. The mother goddess, she permits the blossoming, she frees all that is constraint, makes any traces of sin, impurities, suffering or sickness. She brings good healt.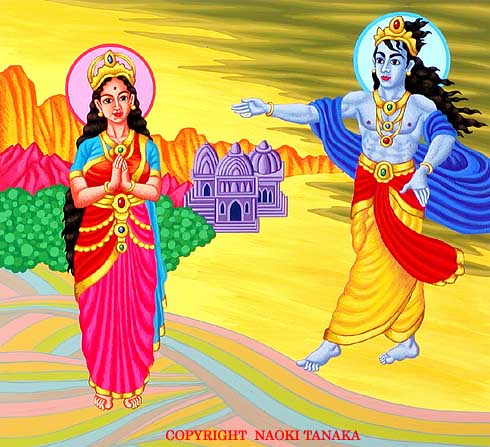 3.Amaterasu
De la mythologie japonaise, elle est la déesse du Soleil et de la Lumière, et aussi l'ancêtre de l'empereur.Le déesse morte s'enferma dans une grotte et plongea du même coup le monde dans les ténèbres créant la première nuit. / From the japanesse mythology, she is the goddess of the Sun and Light, and the ancestor of the emperor. When she die and entrapt herself in a cave, she put the world in darkness, creating the first night.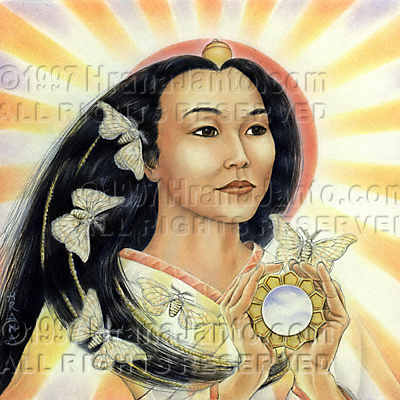 4.Épona
De la mythologie celtique, Épona est la déesse des chevaux et ausi leur protectrice. /From celtic mythology, Épona is the godess of horse and their protector.

5. Artémis
Artémis est éternellement jeune et active. /Artemis is eternally young and active.


6. Athéna
L'intelligence et l'habilité, Athéna allie l'amourt de l'art et celui de la sagesse pour sa ville, Athène. /Intelligent and habile, Athena mix love of art with wiseness for her city, Athens.

7. Thétis
Nymphe de la mer, on surnommait Thétis la femme aux pieds d'argent. Elle est la mère d'Achille. /Sea's nymph, Thetis is called silver feet woman. She is Achille's mother.


8. Nymphes
Déesses grecques, les nymphes sont des jeunes femmes , souvent à demi dévêtues, elles symbolisent la beauté et le charme des sources, des bois, de toute la nature. Elles protègent la jeunesse et apportent la fertilité aux terres. /grecs goddesses,nymph are young women, frequently half naked, they are symbol of beauty and the charms of spring, wood, of all nature. Nymphs are protector of youth and they bring fertility to the earth.

9. Maât
Déesse égyptienne, Maât est l'équilibre, et l'ordre social et cosmique. Elle la condition de l'existence des dieux et de leurs fonctions. /Egyptian goddess, Maat is balance, and social and cosmic balace. She is the condiction for gods existence and for their fonctions.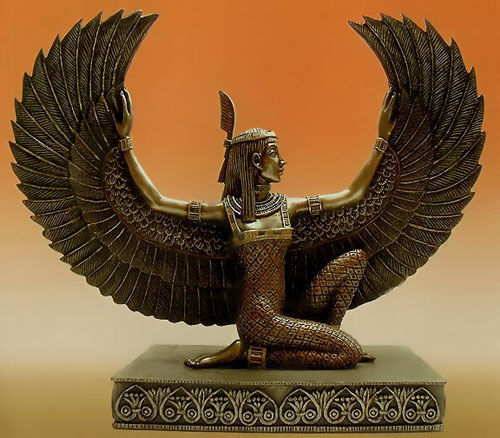 10. Nephtys
De l'Égypte, Nephtys s'oppose à son époux Seth et tente de corriger ses actions malfaisantes. Elle représente la stérilité./ From Egypt, Nephtys will oppose to his husband Seth, and will try to correct his bad actions. She represent sterility.
11. Anahita
Anahita est une déesse perse et donc une des rares femmes dans le mazdéisme(Iran). Elle est la déesse de l'Aurore et de la Fécondité. Elle est aussi connu sous le nom: Ardva Sura Anahita, qui signifie : la Haute, La Puissante, L'Immaculée./ Anahita is a persian goddess, and then so one of the rare women in mazdism(Iran). She is the goddess of Dusk and Fertility. She is also known under the name : Ardva Sura Anahita, who mean: The High, The Powerfull, the Immaculate.
12. Inanna
Du Moyen-Orient, la Dame du Ciel est la déessse de l'amour libre et de la végétation, rusée, volontaire et revendicative, Inanna protège Uruk, apporte à sa ville la civilisation, mais elle est tellement avide de pouvoir qu'elle y risque sa vie./ From middle-east, The sky lady is the goddess of free love and vegetation. Crafty, Volunteer and claiming, Inanna will protect Uruk, bring civilisation to her city, but she be so avid or power that she will risk her life!
13. Uzume
The story of Uzume tells of a dance with which she lured the sun goddess Amaterasu out of the cave where she had hidden herself. She is the Japanesse Goddess of joy and happyness

Labels: Goddess, Thursday Thirteen