Thursday Thirteen # 10
Thirteen Things about Jill
Since this is Blach History Month.../Puisque c'est le mois de l'histoire Noire
13 Black person I appreciate or admire/13 personnes noires que j'apprécie

1.Halle Berry ... She is just a beautiful woman, and she is the first Black woman to win a Oscar/C,est tout simplement une belle femme, et elle a été la première femme noire a gagné un Oscar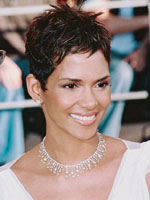 2.DEnzel Washinton ... He is just a gorgeous man, I just wanted to see his picture!!/Il est just un bel homme, je voulais juste voir sa photo!!


3.Nelson Mandela ... What he have done for his country in unbelievable!!/Ce qu'il a fait pour son pays est incroyable!!


4.Martin Luther King ...Someone that fight for the right of a group of person, is someone I admire/Quelqu'un qui se bat pour les droits d'un groupe, est quelqu'un que j'admire


5. Eddy Murphy ... Since i supposely look like him, and he is just a funny guy/Puisque je lui ressemble, supposément, et qu'il est juste un comique

6.Muhammad Ali ... I just needed to put a athlete here, and I know he has done well in boxing/ Je voulais simplement mettre un athlète et je sais qu'il s'est démarqué en boxe


7.Chuck Berry ... First, I though he was a fat man... oups, my wrong, and I just love his music/Premièrement, je croiais que c'était un homme plutot grasouillet, oups, ma faute, et j'aime simplement sa musique


8.Bill Crosby ...Not his biggest fan, but he has done some great work/Je ne suis pas sa meilleur fan, mais il a fait du bon travail


9.Whoopi Goldberg ... She was a childhood icon for me... She was funny and amaze me with the colour purple... / Elle était une icone pour moi durant mon enfance...Elle était drôle et elle m'a emmerveillée dans La courleur Pourpre


10.Cuba Gooding Jr. ... He was amazing in Radio, and even while playong a mentaly challenge man, the guy could not hide is killer ass... An extra mention for that rear!!/ Il était magnifique dans Radio, et même en jouant un homme avec un retard mental , il ne pouvait pas cacher ses belles fesses...Une mention supplémentaire pour ce derrière!!


11.Lauryn Hill ... That girl have some pipe!! And she was so sweet in sister act 2!!/Cette fille a une méchante voix!! Et elle était si mignone dans Rock'n'None 2!!


12.Tina Turner ... the woman still look good for her age, and I want her legs!!/ Cette femme est encore belle pour son âge, et je veux ses jambes!!


13.Will Smith ...Look at his smile, it's just beautiful...And I like him as an actor/REgardez ce sourire, il est juste beau... Et je l,apprécie comme acteur


Links to other Thursday Thirteens!
1. Kimo & Sabi 2.Retta 3.Marcia 4.Maggie 5.nancy 6.Candy Minx 7.Haley-O 8.Susan Helene Gottfried
(leave your link in comments, I'll add you here!)


Get the Thursday Thirteen code here!


The purpose of the meme is to get to know everyone who participates a little bit better every Thursday. Visiting fellow Thirteeners is encouraged! If you participate, leave the link to your Thirteen in others comments. It's easy, and fun! Be sure to update your Thirteen with links that are left for you, as well! I will link to everyone who participates and leaves a link to their 13 things. Trackbacks, pings, comment links accepted!

View More Thursday Thirteen Participants


Labels: Thursday Thirteen