Thursday Thirteen # 4
Thirteen Things about Jill
I was kind of bored last day, so I've try out the celebreties face recognition on My heritage web site. I ran a couple of picture to get a real view of whom I look like. /Je m'ennuiais il y a quelques jours, donc j'ai essayé la recognition du viasage au site My heritage. J'ai essayé quelques photos pour avoir une vraie vue d'ensemble de à qui je ressemble.



13 persons that I look like according to My heritage/13 personnes à qui je ressemble, selon My heritage
1.Sean Hayes(58% and 74%,72%)
Do I really look like a gay man impersanator?? Est-ce que je ressemble à quelqu'un qui impersonifie un homme gai?

2.Nicole Kidman(71%) I am that beautiful?(I'm certainly not that skinny)/Est-ce que je suis aussi belle?(Je suis certainement pas aussi maigre)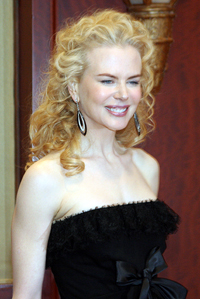 3.Eddy Murphy(70%) Do I look like a black man???/ Est-ce que je ressemble à un homme noir?

4.Jena Malone(73% and 61%(twice)) I didn't know who she was, but I found out she did act in Vanity Fair(And I think that she is the one that looks more like me!!)/Je n'avais aucune idée de qui elle était, je me suis donc apercu qu'elle avait joué dans La foire aux Vanités(Je pense aussi qu'elle est celle qui me ressemble le plus)

5.Kate Beckinsale(68% and 64%) I'm just getting more and more beautiful, according to the star I look like!!/ Je deviens de plus en plus belle, selon les stars auxquelles je ressemble(Ne bave pas trop sur cette photo, Mat)

6.Petra Nemcova(71%) I didn't know either who she was, she was on the cover of the Sport Illustrated!!! / Je ne savais pas au début qui elle était, mais j'ai su qu'elle avait été sur la page couverture du Sport Illustrated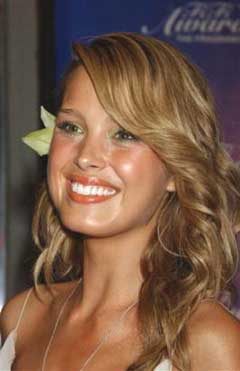 7.Kate Winslet(64%) She is the one that has the body closest to mine, but I still found her really attractive in Titanic, even if some said she was too big!!/ Elle est celle qui a le corps le plus près du mien, et même si on a dit d'elle qu'elle trop grosse dans le Titanic, je la trouvais super dedans!!



8.Ellen Degeneres(53% and 71%) I would have rather be her girlfriend than her, but what can I say?/ J'aimerais mieux ressembler à sa blonde, mais qu'est-ce que je peux dire?



9.Diane Keaton(70%) She is really an attractive woman for her age, if I could look that good at her age!!/ Elle est vraiment une belle femme pour son âge, si je pourrais lui ressembler à son âge!!


10.Michelle Rodriguez (67%) I love her tomboy look and attitude, I respect her for it!!! /J'aime son attitude et son allure garçonet, et je la respecte pour ça!!!


11.Kylie BAx(70%) She was on the top of the Playboy magazine, should I say more?/ Elle était sur la page couverture du magazine Playboy, devrais-je en dire plus?


12.Rahael Leigh Cook(68%) I always find he to be that sweet good looking gitl, so I'm not complaining/ Je l'ai toujours trouvé mignone, donc je ne me plaint pas de lui ressembler


13.Penelope CRuz(67%) She is beautiful, but I found her to be a little bit of a show-off!/Elle est belle, mais je la trouve un peu fière!



Other celebreties that came out during the face recognition:
Rachel McAdams(62%)Kate Bosworth(64% and 66%)Matt Leblanc(66%)Eliza Dushku(61%)Allyson Hannigan(55%)Alison Lohman(67%)Siti Nurhaliza(64%)Howie Dorough(70%)4.Ali Landry (68%)
Here is the site if you want to go see/Si vous vulez aller voir à qui vous ressembler. voici le site!!:http://www.myheritage.com/
Links to other Thursday Thirteens!

1. Raggedy 2.Haley-O
3.Gabriella Hewitt 4.ancsweetnsassygal
(leave your link in comments, I'll add you here!)



Get the Thursday Thirteen code here!


The purpose of the meme is to get to know everyone who participates a little bit better every Thursday. Visiting fellow Thirteeners is encouraged! If you participate, leave the link to your Thirteen in others comments. It's easy, and fun! Be sure to update your Thirteen with links that are left for you, as well! I will link to everyone who participates and leaves a link to their 13 things. Trackbacks, pings, comment links accepted!

View More Thursday Thirteen Participants


Labels: Thursday Thirteen